Masters Thesis Project:
  Worm-E  "The Food Waste Science Education Cart"
Description:
Worm-E is a service model that is based around a compact cart that easily travels between classrooms and schools. The Worm-E cart uses composting as a tool to foster environmental awareness and facilitate learning through actionable steps to make an impact and develop critical thinking skills.
Design Category:
Industrial Design, Service Design, Graphic Design
Time Span:
2 semesters
This project is still a work in progress! 
*Indicates a reference in 'works cited' at the end of the case study. 
I used my masters thesis as an opportunity to study avenues for sustainable initiatives. When I began this project, my focus centered around food waste. According to leading researchers, food waste reduction is declared the third most impactful solution to climate change.* To illustrate, the NRDC states that wasted food produces more greenhouse gas emissions than 37 million cars.* The economic impacts attributed to the growth, distribution and disposal of food amount to $218 billion annually, which negatively impact consumers, businesses and institutions.* 

After conducting interviews with organizations working on food-related issues, I determined that the most feasible and impactful solution involved educating children on these issues, so they may learn accountability early on. 

From there, I realized this project had the opportunity to take a two-pronged approach to tackle food waste and a much larger problem – finding new ways to help students achieve better critical thinking skills. 
Understanding the School Environment
Persona Profiles
Deanna is a middle school science teacher who feels overwhelmed in finding new ways to engage her students in the short amount of time she has for each class period (40mins). She noticed that every student needs to be doing something, or else the whole class falls rapidly out of control.  Additionally, her newest group of students seem very far behind in their critical thinking skills. With all of her time spent teaching, planning and assessing her students according to common core standards, she has little time to develop and test new project ideas outside of class. Additionally, she is frustrated with the ongoing lack of quality science materials in her classroom, due to a lack of institutional commitment to science. 
Mary is the head chef at her school. She is responsible for managing the meals of the full K-12 student body. This duty requires her to know the dietary restrictions of each student and shop for them accordingly. Her school's funding for lunches come from the USDA subsidy, leaving her only about $1.30 to spend on a meal for each child. She faces even more of a time crunch than teachers, with each lunch session lasting only 20 minutes. She is aware of and concerned about the amount of food students waste, but managing a composting program on top of her other responsibilities is not an option. Additionally, she worries about rats and fruit flies in her kitchen. 
The Solution
Worm-E: The Food Waste Science Education Cart
Worm-E is a service model that is based around a compact cart that easily travels between classrooms and schools. The Worm-E cart uses composting as a tool to foster environmental awareness and facilitate learning through actionable steps to make an impact. 
The service reduces the time commitment and pressure on teachers w
hile encouraging critical thinking through development of scientific methodology. A subscriptio
n to Worm-E provides
curriculum development, supporting scientific equipment, teacher consultation, and the maintenance, set up and storage of each cart.
Use of each Worm-E cart will follow a monthly subscription service. Each subscription plan purchased covers funding for an additional cart in an under-resourced school.
Using the Cart in the Classroom
Encouraging the Development of Critical Thought
Below are just a few examples of the various applications the Worm-E cart provides.
Using the Interactive Whiteboard
Students have the opportunity to collect and extrapolate on data and to come up with models of their own. The interactive whiteboard attached to the unit will employ GIS data showing neighborhood waste rates, emissions readings, and recordings of the worms breaking down the food items. All of this information is readily accessible for phones, computers and tablets.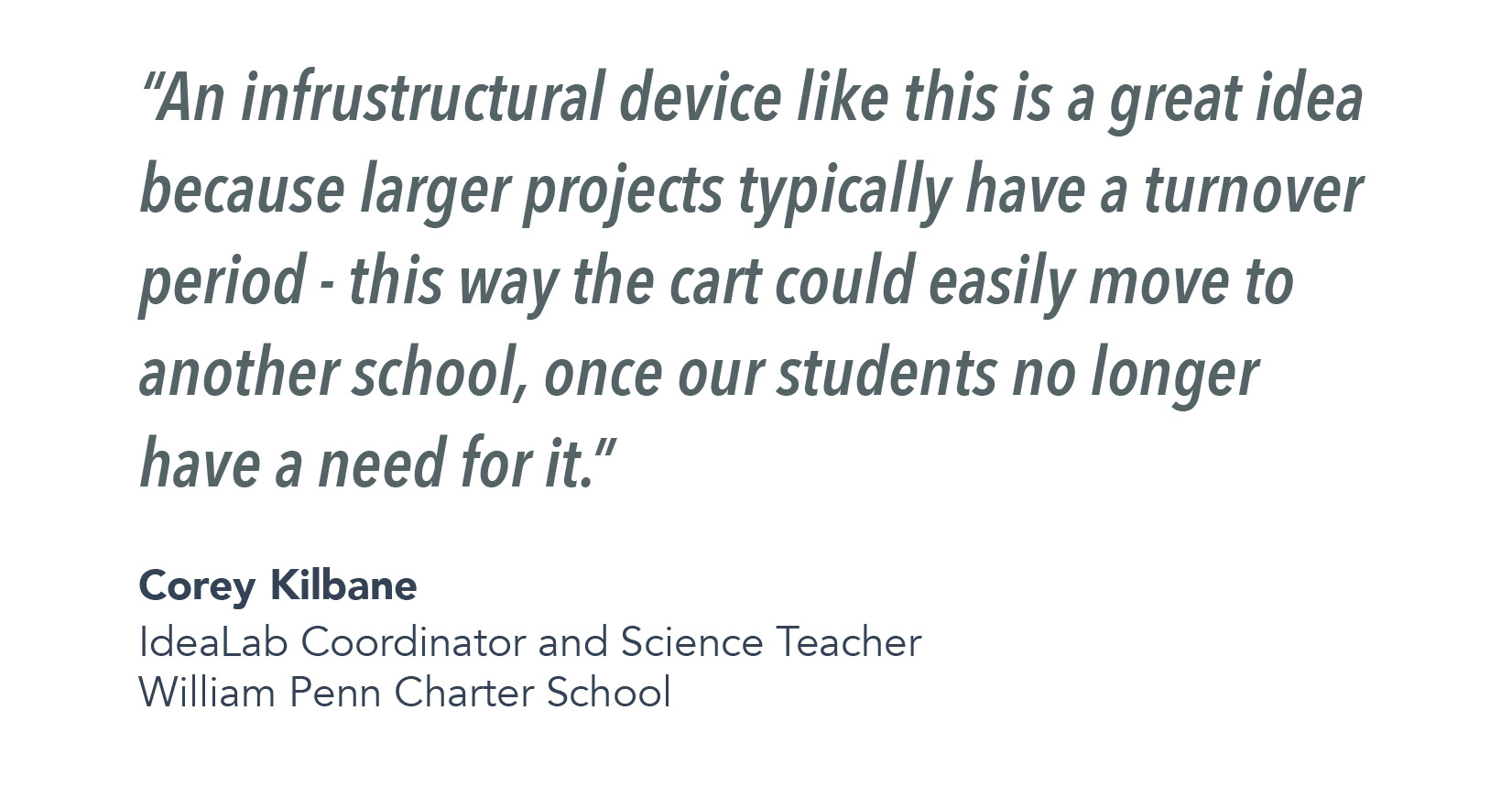 Sustainable Development Goals Achieved
Market Analysis
A similar business plan
Learning Undefeated is a "member organization of traveling laboratory and other laboratory-based education programs that provide equity of access to authentic hands-on, inquiry-based, contemporary science education for K-12 students, educators, and the community."
Mobile labs supports any start up that wants to bring STEM education to students. Packages include scientific equipment lending programs. 
Shown below is a glimpse of the process I took to develop this product. For the sake of brevity, I have left out information on qualitative and quantitative research gathered, market analysis, product manufacturing details among other information. I have created a book on the entirety of this project. Please ask contact me for more information!